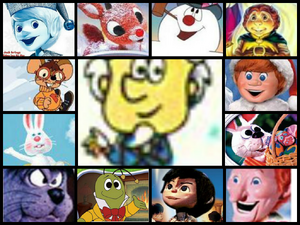 The Rankin/Bass Golden Collection is the collection of memorable rankin/bass specials. The front cover shows The Wizard, who served as the mascot.
TV Specials and Movies
Appear
Rudolph the Red Nosed Reindeer (1964)
Willy McBean and his Magic Machine (1965)
The Daydreamer (1966)
Mad Monster Party (1967)
Mouse on the Mayflower (1968, Tennessee Ernie Ford)
The Little Drummer Boy (1968, Greer Garson)
Frosty the Snowman (1969, Jimmy Durante)
Santa Claus Is Comin' To Town (1970, Fred Astaire)
Here Comes Peter Cottontail (1971, Danny Kaye)
The Enchanted World of Danny Kaye: The Emperor's New Clothes (1972) (produced as a division of Tomorrow Entertainment)
'Twas the Night Before Christmas (1974, Joel Grey & George Gobel)
The Year Without a Santa Claus (1974, Shirley Booth)
The First Christmas: The Story of the First Christmas Snow (1975, Angela Lansbury)
The First Easter Rabbit (1976, Burl Ives)
The Easter Bunny Is Comin' to Town (1977, Fred Astaire)
The Hobbit (1977)
Nestor the Long-Eared Christmas Donkey (1977, Roger Miller)
The Stingiest Man in Town (1978, Tom Bosley)
Jack Frost (1979, Buddy Hackett)
Pinocchio's Christmas (1980)
The Leprechaun's Christmas Gold (1981, Art Carney)
The Flight of Dragons (1982)
Coneheads (1983)
The Life and Adventures of Santa Claus (1985)
The Wind in the Willows (1987)
Santa, Baby! (2001, Patti LaBelle)
Not Appear
Return to Oz
Frosty's Winter Wonderland
Rudolph's Shiny New Year
The Little Drummer Boy, Book II
Rudolph and Frosty's Christmas in July
Ad blocker interference detected!
Wikia is a free-to-use site that makes money from advertising. We have a modified experience for viewers using ad blockers

Wikia is not accessible if you've made further modifications. Remove the custom ad blocker rule(s) and the page will load as expected.