Disney and Sega's movie-spoof and animal style of 1981 Disney film, "The Fox and the Hound".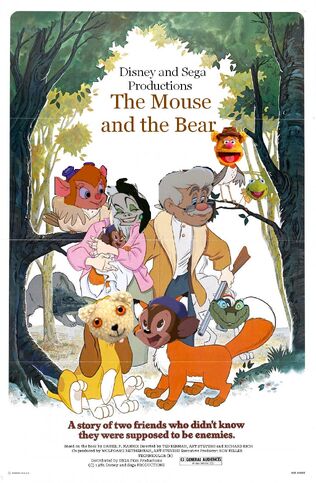 Cast
Baby Tod - Abner Countrymouse (The Country Cousin)
Young Tod - Sniffles the Mouse (Looney Tunes)
Adult Tod - Mighty Mouse (Mighty Mouse)
Young Copper - Little Bear (Old Bear)
Adult Copper - Paddington Bear
Big Mama - Gadget Hackwrench (Chip 'n' Dale Rescue Rangers)
Dinky - Kermit the Frog (The Muppets)
Boomer - Fozzie Bear (The Muppets)
Squeaks the Caterpillar - Oliver (Oliver & Company)
Widow Tweed - Cruella de Vil (101 Dalmatians)
Amos Slade - Geppetto (Pinocchio)
Chief - Kaa the Snake (The Jungle Book)
Badger - Sam the Eagle (The Muppets)
Porcupine - Rizzo the Rat (The Muppets)
Vixey - Pearl Pureheart (Mighty Mouse)
Bear - Perfect Chaos (Sonic Adventure)
Squeaks in Butterfly Form - Queenie (Chip 'n' Dale Rescue Rangers)
Tod's Mother - Miss Lilly (Angelina Ballerina)
Ad blocker interference detected!
Wikia is a free-to-use site that makes money from advertising. We have a modified experience for viewers using ad blockers

Wikia is not accessible if you've made further modifications. Remove the custom ad blocker rule(s) and the page will load as expected.