Disney and Chaiyo's tv-spoof and animal style of 1992 Disney tv series, "The Little Mermaid".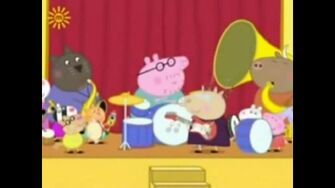 Cast:
Ariel - Pearl Pureheart (Mighty Mouse)
Flounder - Ultra Nyan (1 & 2)
Sebastian - Doraemom
Scuttle - Jim Crow (Dumbo)
King Triton - Baba Miao (Sagwa the Chinese Siamese Cat)
Adelle - Giselle (Tale of the Tooth Fairies)
Alana - Mrs. Brisby (The Secret of Nimh)
Andrina - Miss Bianca (The Rescuers)
Aquata - Tanya (An American Tail)
Arista - Fawn Deer (Raw Toonage)
Attina - Rebecca Cunningham (TaleSpin)
Ursula - Queen Beryl (Sailor Moon)
Flotsam and Jetsam - Gomora and Redking (Ultraman)
Urchin - Roddy (Flushed Away)
Gabriella - Angie (Shark Tale)
Ollie - Mort (Madagascar)
Pearl - Mrs. Twitcher (Pip Ahoy !)
Pearl's Parents - Blue's Clues Characters
Spot - Goliath (Goliath II)
Dudley - Minilla (Son of Godzilla)
Stormy - Parsley the Lion (The Herbs)
Hans Christian Andersen - Brave Heart Lion (Care Bears)
Evil Manta - Caractacus P. Doom (Avenger Penguins)
Little Evil - Natsunomeryu (Ultraman Max)
Lobster Mobster - Darth Vader (Star Wars)
Da Shrimp - Claw (Kimba the White Lion/The New Adventures of Kimba the White Lion)
Simon - Barney (Barney & Friends)
Moray Eel - P.A.W.S. (Danger Mouse)
Flo and Ebb - Godzilla and Jirass (Monster Island Buddies)
Magical Wishing Starfish - Gizmo (Gremlins)
Daniel - Chip (Hello Kitty's Furry Tale Theater)
Dr. Vile - Whopper (Pound Puppies)
Prince Eric - Mighty Mouse
Grismby - Brain (Inspector Gadget)
Chef Louis - Danger Mouse
Flounder as a Howling Hairfish - Bubo (The Trap Door)
Ad blocker interference detected!
Wikia is a free-to-use site that makes money from advertising. We have a modified experience for viewers using ad blockers

Wikia is not accessible if you've made further modifications. Remove the custom ad blocker rule(s) and the page will load as expected.