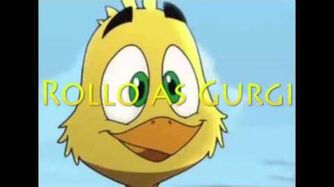 Cast:
Taran - Kion (The Lion Guard)
Eilowny - Fuli (The Lion Guard)
The Horned King - Janja (The Lion Guard)
Fflewddur Fflam - Young Bagheera (Jungle Cubs)
Gurgi - Rollo (A Movie of Eggs)
Dallben - Young Baloo (Jungle Cubs)
Hen-Wen - Tanya Mousekewitz (An American Tail)
Creeper - Cheezi (w/Chungu as an extra; The Lion Guard)
King Eidilling - Django (Ratatouille)
Doli - Spot (101 Dalmatians: The Series)
Orddu, Orwen and Orgoch - Belladonna (An All Dogs Christmas Carol), Madame Mousey (An American Tail: The Mystery of the Night Monster) and Muriel (The Secret of NIMH 2: Timmy to the Rescue)
Dallben's Cat - Patch (101 Dalmatians; 1961)
Gwythaints as themselves
Sleeping Guard - Mooch (Lady and the Tramp 2: Scamp's Adventure)
The Horned King's Henchmen - Hyenas (The Lion Guard)
Dancing Woman - Dhahabu (The Lion Guard)
Guard who spotted/attacked Taran - Ushari (The Lion Guard)
Another guard with a sword - Kenge (The Lion Guard)
Fairfolk Little Girl - Marie (The Aristocats)
Fairfolk Little Boys - Berlioz, Toulouse (The Aristocats) and Oliver (Oliver and Company)
Other Fairfolk - Various Cats
Cauldron Born - Zombie Eggs (Another Movie of Eggs and A Chicken)
Ad blocker interference detected!
Wikia is a free-to-use site that makes money from advertising. We have a modified experience for viewers using ad blockers

Wikia is not accessible if you've made further modifications. Remove the custom ad blocker rule(s) and the page will load as expected.