CoolZClassic's movie-spoof of 1970 Disney film, "The Aristocats".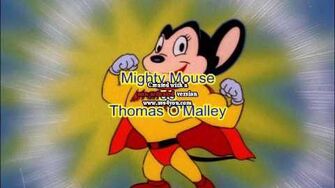 Cast:
Duchess - Pearl Pureheart (Mighty Mouse)
Thomas O'Malley - Mighty Mouse
Berlioz - Martin (A Tale of Tooth Fairies)
Marie - Giselle (A Tale of Tooth Fairies)
Toulouse - Scrappy Mouse (Mighty Mouse)
Roquefort - Mickey Mouse (Disney)
Scat Cat - Goofy (Disney)
Madame Adelaide Bonfamilie - Betty's Mom (Atomic Betty)
Georges Hautecourt - Betty's Dad (Atomic Betty)
Abigali and Amelia Gabble - Daphne Blake and Velma Dinkley (Scooby-Doo)
Uncle Waldo - Shaggy Rogers (Scooby-Doo)
Napoleon and Lafayette - Sparky and Robot X-5 (Atomic Betty)
Peppo the Italian Cat - Scratch (Adventures of the Sonic the Hedgehog)
Hit Cat the English Cat - Grounder (Adventures of the Sonic the Hedgehog)
Shun Gon the Chinese Cat - Timon (The Lion King)
Billy Boss the Russian Cat - Heffler Wolfe (Rocko's Modern Life)
Edgar Balthazar - The Ringmaster (Dumbo)
Frou-Frou - Sasha (All Dogs Go to Heaven)
The French Milkman - The Red Guy (Cow and Chicken)
Le Petit Cafe Cook - The Grinch (How the Grinch Stole Christmas (1966))
Truck Movers - William (Titanic: The Legend Goes On) and McZee (3D Movie Maker)
Man seeing Roquefort chasing the Cat Gang - Uncle Grandpa
Cats - Various Animals
Ad blocker interference detected!
Wikia is a free-to-use site that makes money from advertising. We have a modified experience for viewers using ad blockers

Wikia is not accessible if you've made further modifications. Remove the custom ad blocker rule(s) and the page will load as expected.