Disney and Sega's movie-spoof and human and animal style of 1970's Disney film, "The Aristocats".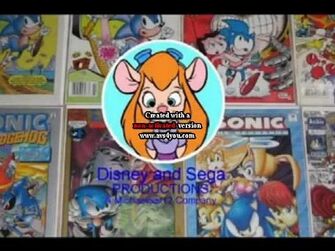 Cast:
Duchess - Thumbelina
Thomas O'Malley - Prince Cornelius (Thumbelina)
Berlioz - Li'l Bee (Thumbelina)
Marie - Baby Bug (Thumbelina)
Toulouse - Gnatty (Thumbelina)
Madame Adelaide Bonfamilie - Belle (Beauty and the Beast)
Georges Hautecourt - Maurice (Beauty and the Beast)
Abigali and Amelia Gabble - Maid Marian and Lady Kluck (Robin Hood)
Uncle Waldo - Dodo (Alice in Wonderland)
Napoleon and Lafayette - Paddington Bear and Orinoco (The Wombles)
Roquefort - Sonic the Hedgehog
Scat Cat - Count Duckula
Peppo the Italian Cat - Chip (Chip 'n' Dale Rescue Rangers)
Hit Cat the English Cat - Dale (Chip 'n' Dale Rescue Rangers)
Shun Gon the Chinese Cat - Monterey Jack (Chip 'n' Dale Rescue Rangers)
Billy Boss the Russian Cat - Flash the Wonder Dog (Chip 'n' Dale Rescue Rangers)
Edgar Balthazar - Grundel the Toad (Thumbelina)
Frou-Frou - The Blue Fairy (Pinocchio)
The French Milkman - Danny (Tourettes Guy)
Ad blocker interference detected!
Wikia is a free-to-use site that makes money from advertising. We have a modified experience for viewers using ad blockers

Wikia is not accessible if you've made further modifications. Remove the custom ad blocker rule(s) and the page will load as expected.