Disney and Sega's movie-spoof and animal style of 2010's Disney film, "Tangled".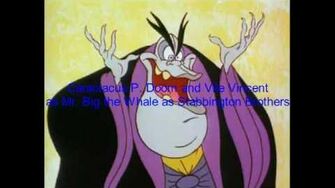 Cast:
Rapunzel - Nellie the Elephant
Flynn Rider - Orinoco (The Wombles)
Pascal - Alvin (Alvin and the Chipmunks)
Mother Gothel - Catrina (My Little Pony: Escape from Catrina)
Stabbington Brothers - Caractacus P. Doom (Avenger Penguins) and Vile Vincent (Huxley Pig)
Young Rapunzel - Emily Elephant (Peppa Pig)
Maximus - Parsley the Lion (The Herbs)
Hook-Hand Thug - Paddington Bear
Big Nose Thug - Conker the Squirrel (Conker's Bad Fur Day)
Old Man Thug - Pikachu (Pokemon)
Vladimir - Kermit the Frog (The Muppets)
Ulf - Scooby-Doo
Captain of the Guards - Bagheera (The Jungle Book)
Guards - Penguin's March (Farce of the Penguins)
The King - Tobermory (The Wombles)
The Queen - Madame Cholet (The Wombles)
Old Gothel - Kismet (Chip 'n Dale Rescue Rangers)
Tor - Cooler (Pound Puppies)
Gunther - Thomas the Tank Engine (Thomas and Friends)
Attila - Tito (Oliver and Company)
Bruiser - Penfold (Danger Mouse)
Killer - Archibald the Koala
Fang - Kipper the Dog
Greno - The Pink Panther
Big Nose Thug's True Love - Berri (Conker's Bad Fur Day)
4 Braiding Little Girls - Margot (The Shoe People), Kitty Katswell (T.U.F.F. Puppy), Princess Sylvia (Muzzy in Gondoland) and Tweezle Dee (Little Mouse on the Prairie)
Gallery
Ad blocker interference detected!
Wikia is a free-to-use site that makes money from advertising. We have a modified experience for viewers using ad blockers

Wikia is not accessible if you've made further modifications. Remove the custom ad blocker rule(s) and the page will load as expected.