Disney and Sega's movie-spoof of 1988 film, "Pound Puppies and the Legend of Big Paw".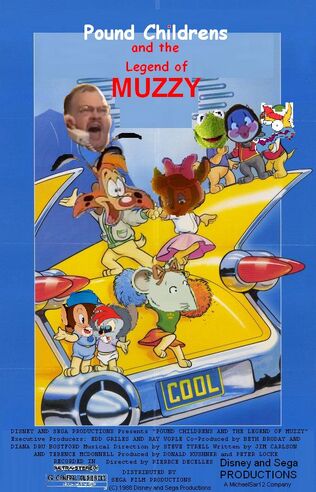 Cast:
Cooler - Bonkers D. Bobcat (Bonkers)
Nose Marie - Fawn Deer (Raw Toonage/Bonkers)
Howler - Mash (The Looney Lab)
Young Whooper - Sniffles the Mouse (Looney Tunes)
Collette - ???
Collette's Puplings - ???
Florence - Gadget Hackwrench (Chip 'n Dale Rescue Rangers)
Bright Eyes - Angelina Mouseling (Angelina Ballerina)
Beamer - Jacquimo (Thumbelina)
Reflex - Kermit the Frog (The Muppets)
Hairball - Hudson Horstachio (Viva Pinata)
Charlamange - Paulie Pretztail (Viva Pinata)
Bulldog Puppies as themselves
Transformed Bulldogs - Penguin's March (Farce of the Penguins)
Marvin McNasty - Danny (Tourettes Guy)
Lumpy and Bones - Angry Video Game Nerd and Nostaglic Critic
Jeff and Tammy - Christopher Robin (Winnie the Pooh) and Jenny Foxworth (Oliver & Company)
Sir McNasty - Vincent Cadby (Ace Ventura: When Nature Calls)
Arthur - Link (The Legend of Zelda)
Digalot - Felix the Cat
Adult Whopper - Mighty Mouse
Whopper's Niece and Nephew - Scrappy Mouse (Mighty Mouse) and Polly Mouseling (Angelina Ballerina)
Big Paw - Muzzy (Muzzy in Gondoland)
Ad blocker interference detected!
Wikia is a free-to-use site that makes money from advertising. We have a modified experience for viewers using ad blockers

Wikia is not accessible if you've made further modifications. Remove the custom ad blocker rule(s) and the page will load as expected.