Disney and Sega's movie-spoof of 2011 DreamWorks Animation film, "Puss in Boots".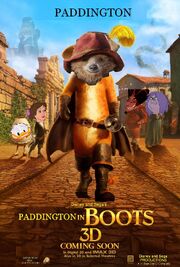 Cast:
Puss in Boots - Paddington Bear
Humpty Dumpty - Donald Duck (Disney)
Kitty Softpaws - Fern Arable (Charlotte's Web 1973))
Jack and Jill - Jafar (Aladdin) and Madame Mim (The Sword in the Stone)
Commandante - Rapustin (Anastasia)
Commandante's Guards - ???
Imelda - Human Tiana (The Princess and the Frog)
Rancher - ???
Giuseppe - ???
Ohhh Cat - ???
Andy Beanstalk - ???
Ad blocker interference detected!
Wikia is a free-to-use site that makes money from advertising. We have a modified experience for viewers using ad blockers

Wikia is not accessible if you've made further modifications. Remove the custom ad blocker rule(s) and the page will load as expected.