Disney and Sega's movie-spoof of 2001's DreamWorks film, "Shrek".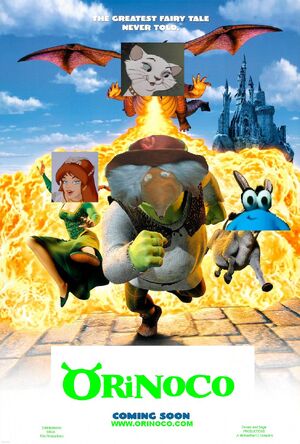 Cast
Shrek - Orinoco (The Wombles)
Donkey - Berk (The Trap Door)
Princess Fiona (Human) - Angelica (Titanic: The Legend Goes On)
Princess Fiona (Ogre) - Nellie the Elephant
Lord Farquaad - Danny (Tourettes Guy)
Dragon - Duchess (The Aristocats)
The Big Bad Wolf - The Ringmaster (Dumbo)
The Three Little Pigs - Flynn Rider (Tangled), Buzz Lightyear (Buzz Lightyear of Star Command) and Kronk (The Emperor's New Groove)
The Three Blind Mice - Ace Ventura, Sonic the Hedgehog and Kenai (Brother Bear)
Gingy - Rabbit (Skunk Fu!)
Pinocchio - Link (The Legend of Zelda)
Magic Mirror - Mushu (Mulan)
Ad blocker interference detected!
Wikia is a free-to-use site that makes money from advertising. We have a modified experience for viewers using ad blockers

Wikia is not accessible if you've made further modifications. Remove the custom ad blocker rule(s) and the page will load as expected.