Disney and Sega's movie spoof and animal style of 1998's Disney film, "Mulan".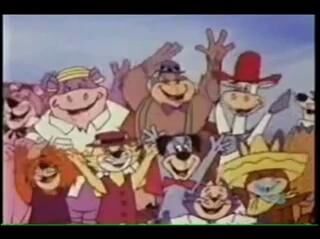 Cast:
Mulan - Nellie the Elephant
Shang - Orinoco (The Wombles)
Mushu - Count Duckula
Cri-Kee - Oliver (Oliver & Company)
Little Brother - Tramp (Lady and the Tramp)
Khan - Parsley the Lion (The Herbs)
Shan-Yu - Caractus P. Doom (Avenger Penguins)
Yao - King Louie (The Jungle Book)
Ling - Conker the Squirrel (Conker's Bad Fur Day/Conker: Live & Reloaded)
Chien-Po - Berk (The Trap Door)
Fa Zhou - Tobermory (The Wombles)
Fa Li - Madame Cholet (The Wombles)
Grandmother Fa - Gadget Hackwrench (Chip 'n' Dale Rescue Rangers)
Chi-Fu - Alex the Lion (Madagascar)
General Li - Tigger (Winnie the Pooh)
Matchmaker - Kitty Katswell (T.U.F.F. Puppy)
First Ancestor Fa - Colonel K (Danger Mouse)
Ancestors - Simonne Cinnamonkey, Hudson Horstachio (Viva Pianta), Mrs. Brisby (The Secret of Nimh), Danger Mouse, Basil (The Great Mouse Detective), etc.
Emperor - Adrimal DeGill (Atomic Betty)
Great Wall Guard (aka Guard at Beginning) - Bonkers D. Bobcat (Disney's Bonkers)
Shan-Yu's Archer - D'Compose (Inhumanoids)
Shan-Yu's Scout - Tendrill (Inhumanoids)
Shan-Yu's Huntsman - Stiletto (Danger Mouse)
Shan-Yu's Bodyguard 1 - Penguin's March (Farce of the Penguins)
Shan-Yu's Bodyguard 2 - Dr. Von Goosewing (Count Duckula)
Imperial Scout 1 - Chip (Chip 'n' Dale Rescue Rangers)
Imperial Scout 2 - Paddington Bear
Ad blocker interference detected!
Wikia is a free-to-use site that makes money from advertising. We have a modified experience for viewers using ad blockers

Wikia is not accessible if you've made further modifications. Remove the custom ad blocker rule(s) and the page will load as expected.