Melody Locus

Melody Locus with Brad.

First apperance

Bradventure

Last apperance

No Harmony with Melody

Quote(s):

"I... am... NORMAL!!!"
Melody Locus is the robot daughter of Dr. Locus. She first appears in Bradventure and runs away from her father in No Harmony with Melody. She develops a crush on Brad.
Background
Appearence
Melody has an exo-skin that gives her blond hair in two drooping pigtails and large blue eyes. She is also wearing a green and blue dress with black flats shoes. When Jenny provokes her, she unveils herself into a robot with an ugly appearance. Her true form freaks out everyone, including Brad.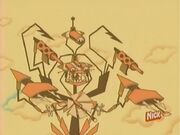 Personality
Melody appears to be a normal caring person who just wants to be a normal girl (like Jenny). However, when provoked, she unleashes her robotic self.
Relationships
Trivia
Gallery
Bradventure
No Harmony with Melody
Ad blocker interference detected!
Wikia is a free-to-use site that makes money from advertising. We have a modified experience for viewers using ad blockers

Wikia is not accessible if you've made further modifications. Remove the custom ad blocker rule(s) and the page will load as expected.