Disney and Sega's movie-spoof human and animal style of "Looney Tunes Back in Action".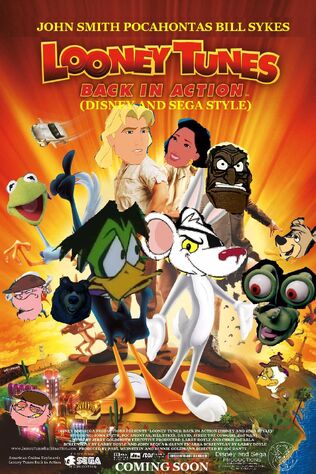 Cast:
Danger Mouse (Danger Mouse) as Bugs Bunny
Count Duckula as Daffy Duck
Igor (Count Duckula) as Foghorn Leghorn
Wally Gator as Sylvester
Penfold (Danger Mouse) as Porky Pig
Boo-Boo Bear as Tweety Bird
Dr. Von Goosewing (Count Duckula) as Marvin the Martian
Mama Odie (The Princess and the Frog) as Granny
Kermit the Frog (The Muppets) as Road Runner
Vincent (Over the Hedge) as Wile E. Coyote
Danny (Tourettes Guy) as Elmer Fudd
Eddy's Brother (Ed Edd 'n' Eddy's Big Picture Show) as Yosemite Sam
Mr. Bumpy (Bump in the Night) as Tasmanian Devil
Donkey (Shrek) as Pepe Le Pew
John Smith (Pocahontas) as D.J. Drake
Pocahontas as Kate Houghton
Sykes (Oliver & Company) as Mr. Chairman
Nani (Lilo and Stitch) as Dusty Tails
Jesse (Toy Story 2) as Mother
David (Lilo and Stitch) as Damian Drake
Chip (Chip 'n' Dale Rescue Rangers) as Speedy Gonzales
Miss Molly Coddle (Bump in the Night) as Tasmanian She-Devil
Magneto (X-Men) as Nasty Canasta
Dr. Doom (Spider-Man) as Peter Lorre
Caractacus P. Doom (Avenger Penguins) as Cottontail Smith
Genie (Aladdin) as Shaggy Rogers
Goofy (Disney) as Scooby Doo
Puss in Boots as Beaky Buzzard
Kitty Katswell (T.U.F.F. Puppy) as Mama Bear
Chief (T.U.F.F. Puppy) as Papa Bear
Dudley Puppy (T.U.F.F. Puppy) as Baby Bear
Ad blocker interference detected!
Wikia is a free-to-use site that makes money from advertising. We have a modified experience for viewers using ad blockers

Wikia is not accessible if you've made further modifications. Remove the custom ad blocker rule(s) and the page will load as expected.