Disney and Sega's movie-spoof human and animal style of 1940 Disney film, "Pinocchio".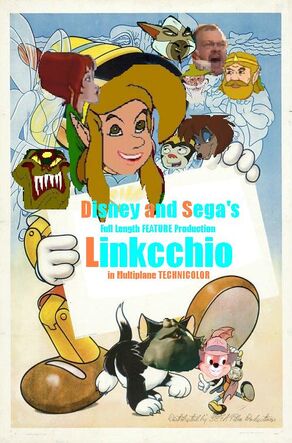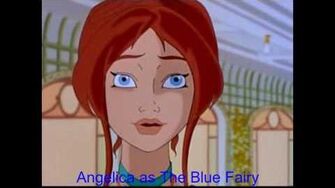 Cast:
Pinocchio - Link (The Legend of Zelda)
Geppetto - King Harkinian (The Legend of Zelda)
Jiminy Cricket - Chip (Chip 'n Dale Rescue Rangers)
Honest John - Maximus I.Q (Atomic Betty)
GIdeon - Minimus P.U (Atomic Betty)
Figaro - Drutt (The Trap Door)
Cleo - Rita (Oliver & Company)
Stromboli - Danny (Tourettes Guy)
Dutch Puppet - Sam (Totally Spies!)
French Puppet - Alex (Totally Spies!)
Russian Puppet - Clover (Totally Spies!)
The Coachman - Ganondorf (The Legend of Zelda)
The Blue Fairy - Angelica (Titanic: The Legend Goes On)
Lampwick - Oru (Link: The Faces of Evil)
Lampwick as Donkey - Glutko (Link: The Faces of Evil)
Monstro as himself
Alexander - Kion (The Lion Guard)
The Donkeys as themselves
Trailer/Transcript:
Chapters:
Linkcchio part 1 - Opening Credits ("When You Wish Upon a Star")
Linkcchio part 2 - One Night, A Long Time Ago...
Linkcchio part 3 - "Little Wooden Head"
Linkcchio part 4 - King Harkinian's Wish
Linkcchio part 5 - Angelica
Linkcchio part 6 - "Give a Little Whistle"
Linkcchio part 7 - A Wish Come True
Linkcchio part 8 - Off to School
Linkcchio part 9 - Maximus I.Q. and Minimus P.U.
Linkcchio part 10 - Link is Led Astray ("Hi Diddle Dee Dee")
Linkcchio part 11 - "I've Got No Strings"
Linkcchio part 12 - Link taken Prisoner
Linkcchio part 13 - Angelica Comes to Link's Aid
Linkcchio part 14 - Ganondorf's Proposition
Linkcchio part 15 - Maximus I.Q. Waylays Link Again
Linkcchio part 16 - Pleasure Island
Linkcchio part 17 - Later That Night
Linkcchio part 18 - Oru Makes a Jackass of Glutko
Linkcchio part 19 - Sad Homecoming
Linkcchio part 20 - The Undersea Search for King Harkinian
Linkcchio part 21 - Monstro Awakens
Linkcchio part 22 - A Soggy Reunion
Linkcchio part 23 - A Whale of a Sneeze
Linkcchio part 24 - The Dream Fulfilled
Ad blocker interference detected!
Wikia is a free-to-use site that makes money from advertising. We have a modified experience for viewers using ad blockers

Wikia is not accessible if you've made further modifications. Remove the custom ad blocker rule(s) and the page will load as expected.