Disney and Sega's movie-spoof of "James and the Giant Peach"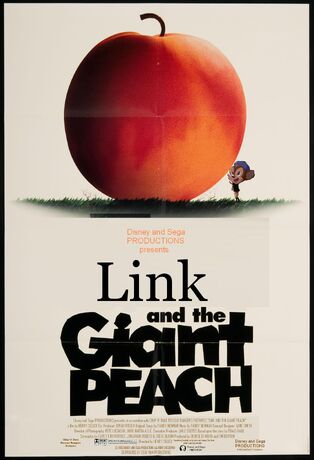 Cast:
James (Live-Action) - Link (The Legend of Zelda)
Aunt Sponge - Lois Einhorn/Ray Finkle (Ace Ventura: Pet Detective)
Aunt Spiker - Mrs. Peenman (The Mask)
Old Man - Gwonam (Link: The Faces of Evil)
James' Parents - William and Angelica (Titanic: The Legend Goes On)
James (Anthropomorphic) - Sniffles the Mouse (Looney Tunes)
Grasshopper - Paddington Bear
Centipede - Chip (Chip 'n' Dale Rescue Rangers)
Ladybug - Gadget Hackwrench (Chip 'n' Dale Rescue Rangers)
Miss Spider - Fern Arable (Charlotte's Web)
Earthworm - Bonkers D. Bobcat (Disney's Bonkers)
Glowworm - Fawn Deer (Raw Toonage)
Rhinoceros - Baron Greenback (Danger Mouse)
Ad blocker interference detected!
Wikia is a free-to-use site that makes money from advertising. We have a modified experience for viewers using ad blockers

Wikia is not accessible if you've made further modifications. Remove the custom ad blocker rule(s) and the page will load as expected.