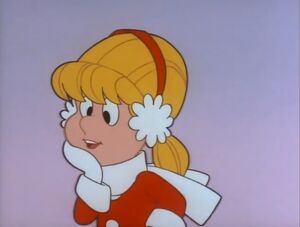 Karen is one of the kids who built Frosty the Snowman in the Rankin/Bass special of the same name. She, along with Hocus Pocus the rabbit, accompanies Frosty on his journey to the North Pole. She was the only one of the kids who was named in the special.
Despite her prominent role in the original special, Karen was oddly absent from the sequel, Frosty's Winter Wonderland.
Ad blocker interference detected!
Wikia is a free-to-use site that makes money from advertising. We have a modified experience for viewers using ad blockers

Wikia is not accessible if you've made further modifications. Remove the custom ad blocker rule(s) and the page will load as expected.