Disney and Sega's movie-spoof and animal and human style of 2013 film, "Epic".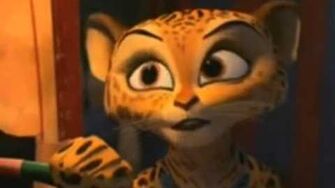 Cast:
M.K. - Gia (Madagascar 3: Europe's Most Wanted)
Nod - Alex (Madagascar)
Ronin - Tigger (Winnie the Pooh)
Mandrake - Fat Cat (Chip 'n Dale Rescue Rangers)
Mub and Grub - Flynn Rider (Tangled) and Kronk (The Emperor's New Groove)
Queen Tara - Rebecca Cunningham (TaleSpin)
Nim Galuu - Pacha (The Emperor's New Groove)
Professor Bomba - Baloo (The Jungle Book)
Bufo - Buzz Lightyear (Buzz Lightyear of Star Command)
Dagda - Don Karnage (TaleSpin)
Leafmen - Fairies, Farm Animals and Jitterbugs (Thumbelina)
Boggans - Penguin's March (Farce of the Penguins) and Flying Monkeys (The Wizard of Oz)
Finn - Darkwing Duck
Ozzie the Three-Legged Dog - Pumbaa (The Lion King)
Larry the Taxi Driver - Zazu (The Lion King)
Fruit Fly (Young, Adult, Old) - Link (The Legend of Zelda)
Marigold Girl - Sarah (Ed Edd n Eddy)
Marigold Girl's Mother - Nazz (Ed Edd n Eddy)
Nod's Bird Mount - Bagheera (The Jungle Book)
Mandrake's Bird Mount - Shere Khan (The Jungle Book)
Ad blocker interference detected!
Wikia is a free-to-use site that makes money from advertising. We have a modified experience for viewers using ad blockers

Wikia is not accessible if you've made further modifications. Remove the custom ad blocker rule(s) and the page will load as expected.