Disney and Sega movie-spoof and animal style of 2013's Disney and Pixar film, "Monsters University"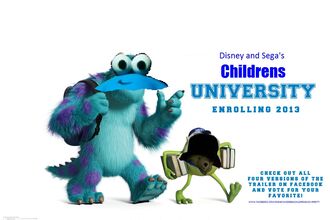 Cast:
James P. Sullivan/Sulley - Berk (The Trap Door)
Mike - Paddington Bear
Randall - Dr. Von Goosewing (Count Duckula)
Don Carlton - Orinoco (The Wombles)
Terry and Terri Perry - Stoppit & Tidyup
Art - Muzzy (Muzzy in Gondoland)
Scott "Squishy" Squibbles - Wellington (The Wombles)
Sheri Squibbles - Madame Cholet (The Wombles)
Brock Pearson - Drake (The Pebble and the Penguin)
Clarie Wheeler - Delilah (Krypto The Superdog)
Two-Headed Pigeon - Pip and Pop (Bear in the Big Blue House)
Chet Alexander - Constantine (Muppet Most Wanted)
Jonathan Worthington lll - Baron Greenback (Danger Mouse)
Javier Rios - Dr. Fitbag (Dr. Fitbag Transylvania Pet Shop)
Reggie Jacobs - Sly (Noddy's Toyland Adventures)
Chip Goff - Shere Khan (The Jungle Book)
Randy - Tai Lung (Kung Fu Panda)
Naomi Jackson - Zira (The Lion King 2: Simba's Pride)
Carrie Williams - Duchess (The Aristocats)
Heather Olson - Sawyer (Cats Don't Dance)
Crystal Du Bois - Marie (The Aristocats)
Britney Davis - Miss Kitty (An American Tail: Fievel Goes West)
Taylor Holbrook - Mr. Rude (The Mr. Men Show)
Dean Hardscrabble - Little Miss Scary (The Mr. Men Show)
Slug - Piglet (Winnie the Pooh)
Librarian - The Mouse Queen (The Nutcracker Prince)
MU Bus Driver - Granny Pig (Peppa Pig)
Roz as a CDA Agent - Foxglove (Chip 'n Dale Rescue Rangers)
Yeti - Flash the Wonder Dog (Chip 'n' Dale Rescue Rangers)
Ad blocker interference detected!
Wikia is a free-to-use site that makes money from advertising. We have a modified experience for viewers using ad blockers

Wikia is not accessible if you've made further modifications. Remove the custom ad blocker rule(s) and the page will load as expected.