Disney and Sega movie-spoof and animal style of 2001's Disney and Pixar film, "Monsters Inc."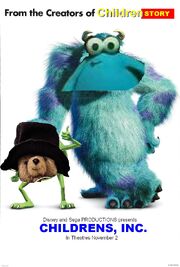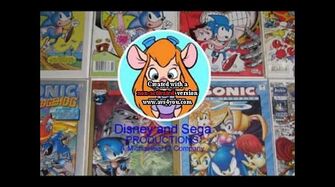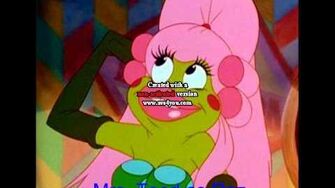 Cast:
James P. Sullivan/Sulley - Berk (The Trap Door)
Mike - Paddington Bear
Boo - Zelda (The Legend of Zelda)
Randall - Dr. Von Goosewing (Count Duckula)
Mr. Waternoose - Caraticus P. Doom (Avenger Penguins)
Celia Mae - Aunt Lucy (Paddington Bear)
Roz - Mrs. Toad (Thumbelina)
Needleman and Smitty - Roger Rabbit and Scoorge McDuck (Who Framed Roger Rabbit and DuckTales)
Fungus - Stiletto (Danger Mouse)
Yeti (Abominable Snowman) - Flash the Wonder Dog (Chip 'n' Dale Rescue Rangers)
Thaddeus 'Phlegm' Bile - Hector the Dog (Hector's House)
Ms. Flint - Tammy (Chip 'n' Dale Rescue Rangers)
Ted Pauley - Louis (The Princess and the Frog)
George Sanderson - Papa Mousekewitz (An American Tail)
Jerry - Mickey Mouse (Disney)
CDA - Bagheera and Penguin's March (The Jungle Book and Farce of the Penguins)
Claws Ward - Bernard (The Rescuers)
Chalooby - Fozzie Bear (The Muppets)
Charlie - Fievel Mousekewitz (An American Tail)
Sushi Chef - Sebastian (The Little Mermaid)
Tony - Scuttle (The Little Mermaid)
Trailer Folk - William and Angelica (Titanic: The Legend Goes On)
TV News Reporter - King Julian (Madagascar)
Teacher - Kitty Katswell (T.U.F.F. Puppy)
Children - Li'l Bee, Gnatty, Baby Bug (Thumbelina)
A Kid that Mike Entertained - Curdie (The Princess and the Goblin)
Nick Lanky Schmidt - Woody Woodpecker
Ricky Plesuski - Sonic the Hedgehog
Harley P. Gerson - Oswald the Lucky Rabbit
Bob Peterson - Bongo (My Big Big Friend)
Harry "Bud" Lucky - Rastamouse
Joe "J.J." Ranft - Hector (Tilly and Friends)
Rivera - Big Bear (Everything's Rosie)
Betty - Mummy Pig (Peppa Pig)
Spike Jones - Skipper (Penguins of Madagascar)
Waxford - Penfold (Danger Mouse)
Blobby - Thomas the Tank Engine (Thomas & Friends)
Rex (in outtakes) - Hudson Horstachio (Viva Pianta)
Children Scream - Audience Scream (Dumbo)
Ad blocker interference detected!
Wikia is a free-to-use site that makes money from advertising. We have a modified experience for viewers using ad blockers

Wikia is not accessible if you've made further modifications. Remove the custom ad blocker rule(s) and the page will load as expected.