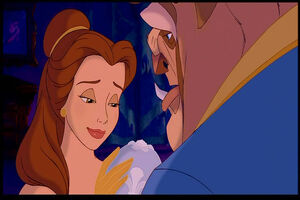 Belle is the female protagonist in Beauty and the Beast.
Belle played Jessica Rabbit in Who Framed Jose Carioca
Belle played Messua in The Children Book 2
Belle played Claire in All Childrens Go to Heaven 2
Belle played Florrie in Madagascar: Escape 2 Africa (Disney and Sega Animal Style)
Belle played Edmond's Mother in Rock-a-Orinoco
Belle played Angelica in Titanic: The Legend Goes On (Disney and Sega Style)
Belle played Edith Zuckerman in Maid's Forest (aka Charlotte's Web)
Belle payed Lisa in Help! I'm a Children
Belle played Queen Uberta in The Mouse Princess (Disney and Sega Style), The Mouse Princess 2: Escape from Castle Mountain (Disney and Sega Style) and The Mouse Princess 3: The Mystery of Enchanted Mountain (Disney and Sega Style)
Belle played Madame Adelaide Bonfamilie in The Aristofairies
Belle played Dixie in The Mouse and the Bear 2
Belle played Human Tiana in The Princess and the Genie
Belle played Pearl Gesner in Home on the Range (Disney and Sega Style)
Portrayals
Beauty and the Horstachio Belle played by Angelica
Beauty and the Red Guy Belle played by Human Tiana
Gallery:
Ad blocker interference detected!
Wikia is a free-to-use site that makes money from advertising. We have a modified experience for viewers using ad blockers

Wikia is not accessible if you've made further modifications. Remove the custom ad blocker rule(s) and the page will load as expected.