Disney and Sega's movie-spoof of "Rikki-Tikki-Tavi".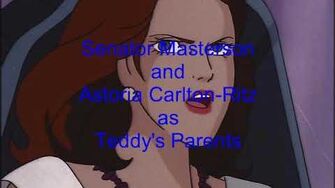 Cast:
Rikki-Tikki-Tavi - Alvin (The Chipmunk Adventure)
Teddy - Daniel Witwicky (Transformers G1)
Teddy's Parents - Senator Masterson (Inhumanoids) and Astoria Carlton-Ritz (Transformers)
Senta Darzee - Orinoco (The Wombles)
Darzee's Wife - Nellie the Elephant
Nag - Oil Can Harry (Mighty Mouse)
Nagaina - Catrina (My Little Pony: Escape from Katrina)
Karait - Baron Greenback (Danger Mouse)
Chuchundra - Monetery Jack (Chip 'n' Dale Rescue Rangers)
Ad blocker interference detected!
Wikia is a free-to-use site that makes money from advertising. We have a modified experience for viewers using ad blockers

Wikia is not accessible if you've made further modifications. Remove the custom ad blocker rule(s) and the page will load as expected.