Disney and Sega's movie-spoof of 2008 Disney film, "Bolt".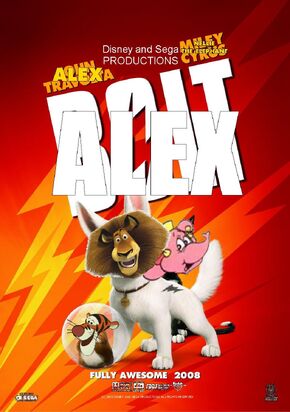 Cast:
Bolt - Alex the Lion (Madagascar)
Mittens - Nellie the Elephant
Rhino - Tigger (Winnie the Pooh)
Penny - Zelda (The Legend of Zelda)
Dr. Calico - Danny (Tourettes Guy)
The Pigeons at New York - The Muppet Characters
The Pigeons at California - Pingu Characters
The Veteran Cat - Baron Greenback (Danger Mouse)
The Fat Cat - Maximus I.Q. (Atomic Betty)
"Bolt" Lookalike - Zuba (Madagascar: Escape to Africa)
Penny's Mother - Angelica (Titanic: The Legend Goes On)
Penny's TV Father - William (Titanic: The Legend Goes On)
The Agent - The Ringmaster (Dumbo)
The Director - Blackthorne Shore (Inhumanoids)
The Thug - Megatron (Transformers)
Mindy - Human Fiona (Shrek)
Young Bolt - Baby Alex (Madagascar: Escape to Africa)
Young Penny - Lucy (64 Zoo Lane)
Ad blocker interference detected!
Wikia is a free-to-use site that makes money from advertising. We have a modified experience for viewers using ad blockers

Wikia is not accessible if you've made further modifications. Remove the custom ad blocker rule(s) and the page will load as expected.